Things to Look for When Searching for the Best Construction CRM Software
Salesforce CRM
+

CloudArc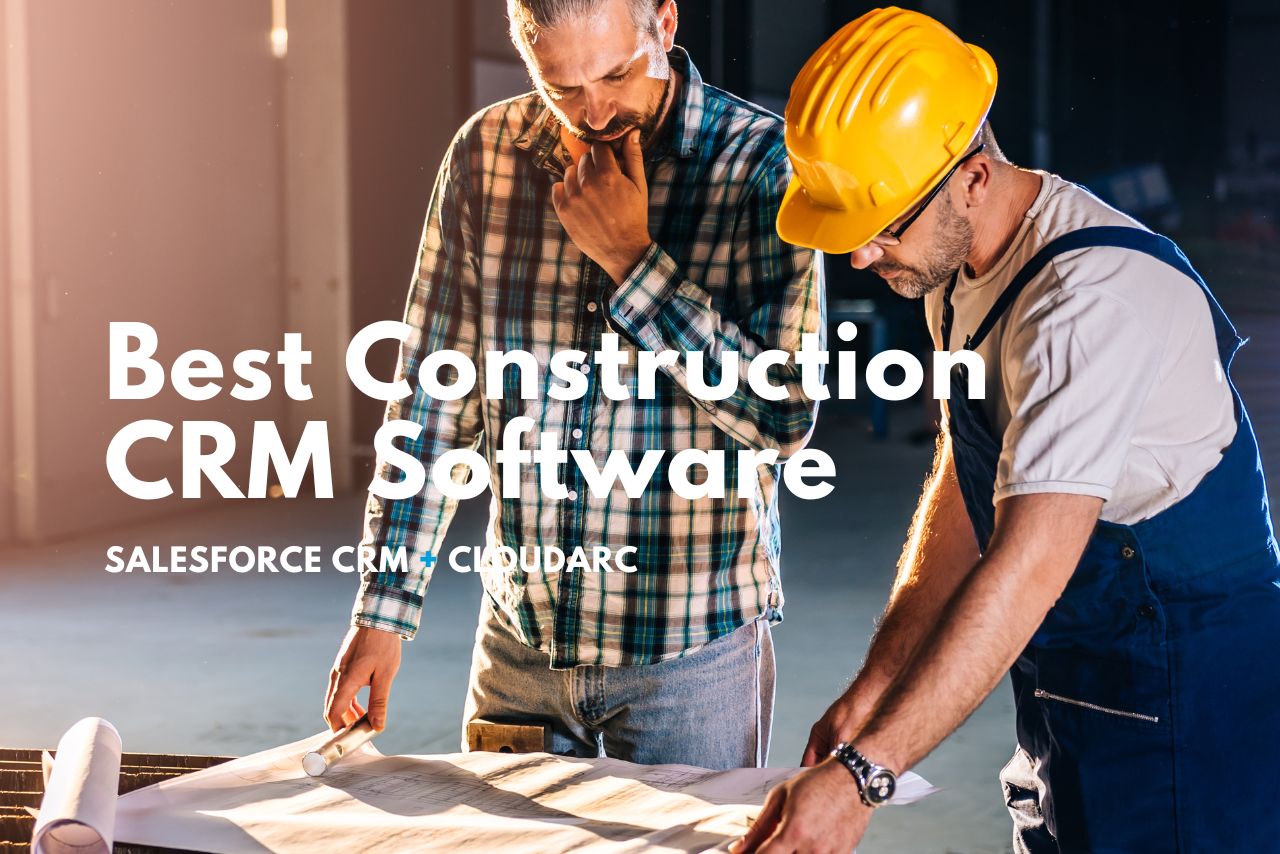 Published: July, 2023 | By: Steve Snapp, CloudArc Founder
Things to Look for When Searching for the Best Construction CRM Software or Contractor CRM
Construction projects greatly benefit from the efficiency and transparency afforded with customer relationship management (CRM) systems that allow businesses to easily track project status; manage budget; track new leads, existing customers and other contacts; integrate seamlessly with other systems; operate from mobile devices; provide robust support and training; and allow for customization as needed.
CloudArc Construction, built on the Salesforce platform specifically for construction companies
While there are lots of options from which to choose, Salesforce is a powerful CRM platform that will grow as your construction business grows while giving you the functionality you need to make your business efficient. What's more, CloudArc Construction, built on the Salesforce platform specifically for construction companies, is an ideal choice that will allow you to accomplish your business objectives at a very reasonable price and without some of the extra "generic" features that add cost to a standard Salesforce implementation and which may distract your users from the core functionality which has the most benefit and impact for construction businesses.
Features in a CRM for construction companies
Looking more closely at the most desired and useful features in a CRM for construction companies, you will find that CloudArc Construction offers all the functionality needed. Some of the more basic features included in the CloudArc Construction offering built in Salesforce is leads and customer management tracking (often referred to as "Leads and Contacts"). Staying on top of each of these categories of contacts is critical when you need to track both new potential leads, existing customers, as well as contacts who may be working with you on a construction project.
Differentiating between each of these types of contacts is essential to keep people and roles properly sorted. This, in addition to tracking a contact's appropriate account information (e.g., role such as architect, builder, plumber, electrician, etc.) is a significant advantage found in CloudArc Construction.
Something else to be sure a construction CRM contains is the ability to integrate with other systems. Your business might rely on other accounting or enterprise systems for budget tracking and sometimes even for tasks like quoting. With CloudArc Construction, seamless integration with those systems is possible and something that CloudArc does routinely for its construction and building material clients. This integration will enable smooth flow of data between systems all while keeping your teams operating efficiently and avoiding duplicate entry of data into two systems.
The construction industry inherently involves personnel working away from the office and in the field. A CRM with powerful mobile functionality is essential for those workers to stay on top of projects and optimize efficiency. CloudArc Construction is accessible via the Salesforce mobile app allowing users to do anything on their mobile devices they would do from their desktops. This keeps your team members on top of projects and supporting customers regardless of whether they are working from their desk or from their mobile device at a work site.
Occasionally construction companies require customizations inside their CRM to make it work with their processes and people
While not needed for most construction businesses, occasionally construction companies require customizations inside their CRM to make it work with their processes and people. Because CloudArc Construction has already been built with construction companies in mind, very little customization is needed for most CloudArc customers. Nevertheless, because of the flexibility of the Salesforce platform, CloudArc can easily work with construction customers to architect and build specific customizations needed to optimize a client's business.
"Out of the box," CloudArc Construction allows for users to add custom fields and objects, create custom reports and even build custom workflows.
Salesforce is known for its robust reporting capability and that functionality extends to CloudArc Construction. However, what makes CloudArc Construction even more useful to businesses is that the standard reports in the system have been designed with construction metrics and reporting objectives in mind. CloudArc customers may modify or add to these as needed. This allows you as the customer to have the exact reports and dashboards you require for your business and to see exactly which projects, accounts, or territories need follow up.
A feature that truly differentiates CloudArc Construction from other solutions when searching for the best construction CRM software is the project management and tracking features that are built into the tool. With project tracking, businesses are able to stay on top of exactly where their projects are in the life cycle. Not only can you track budget and progress details, but also you have transparency into project relationship information pertaining to the subcontractors, architects, and others working on any project. This functionality gives you unique insight into how projects are progressing and on which projects you may need to dedicate additional resources. Project tracking is a feature that is provided in addition to the basic features construction companies need to drive their business forward.
When searching for the best construction CRM
When searching for the best construction CRM, you should also be sure to look for one that includes customer support and training. CloudArc Construction offers customers training that has been customized for their Salesforce org in the training tab within their system. As a result, they can access training videos on-demand to train new staff and users or to simply refamiliarize existing users with features in their system with which they may not otherwise know how to use. CloudArc Construction includes training on basic features on objects such as accounts, contacts, projects, reports, and dashboards, etc. CloudArc also includes specific training videos on any other workflows or enhancements added to customer orgs to optimize the system for their business. In the event training doesn't address users' questions and concerns, CloudArc has online support available.
CloudArc staff will get back to customers within two hours of their requests to confirm we received it and get to work on solving the problem to keep customer businesses running smoothly.
A key feature not to overlook when searching for the best construction CRM software is data privacy and security. What's unique about CloudArc Construction as a product built on the Salesforce platform is that you are able to make your system security match the sensitivity of your data. As a result, keeping your data secure is something CloudArc can work with you on to determine the most appropriate controls needed without overwhelming your users with security features that may impede productivity.
Tags: construction crm software, best construction crm software, contractor software crm, construction project management software, construction management software
Some of the Industries we Serve
Manufacturing | Medical & Health | Financial | Government | Education | Retail | Technology | Utilities | Construction | Real Estate | Hospitality