Why Clients Are Choosing Salesforce As The Best CRM For Small Business
Salesforce CRM
+

CloudArc
Published: Aug, 2023 | By: Steve Snapp, CloudArc Founder
Small businesses have lots of choices when it comes to customer relationship management (CRM) systems.
What truly stands out as the best option is Salesforce implemented through independent Salesforce partners. You may be asking why Salesforce licensed through a reseller like CloudArc makes such a big difference. In this article we will talk about why having an independent Salesforce partner is so important to derive the most impact from Salesforce to help you reach business goals and objectives.
Most people are aware of the benefits of Salesforce for businesses. The flexibility of the platform and its ease of use make it stand out among other tools. What's more, the ability to customize it as needed or to integrate it with other systems used for people and project management, accounting and finance, etc., make it an ideal candidate for all-sized businesses striving to optimize employees' work using technology solutions. Below are more details about why clients are choosing Salesforce as the best CRM for small businesses.
The most obvious and well-recognized reasons Salesforce is the best CRM choice for small businesses can be summed up around its core CRM Features
The most obvious and well-recognized reasons Salesforce is the best CRM choice for small businesses can be summed up around its core CRM features including contact and account management, opportunity tracking, email integration, and reporting. These features help streamline small businesses' sales and customer support processes.
What's often Misunderstood or Overlooked
However, what's often misunderstood or overlooked completely is how to work with an independent Salesforce partner who has the ability to license you Salesforce as well as support your specific implementation of Salesforce. These Salesforce "OEM partners" have the ability to license various Salesforce products (including Sales Cloud) to you directly. What's most compelling about these partners is their ability and willingness to license you what you NEED. For example, in the case of Salesforce independent partner, CloudArc, we will almost always encourage new clients to start with Salesforce Platform because of the features it includes as well as its price point. Businesses can obtain licenses to Salesforce Platform from a Salesforce OEM partner like CloudArc at less expense than Sales Cloud but with all the functionality they need to justify investment in the tool. Small businesses are often intimidated by the potential time and financial investment required to implement Salesforce. Nevertheless, working with an OEM partner like CloudArc can streamline the deployment process and reduce cost since Sales Cloud isn't always what businesses require.
As a small business, CloudArc understands small businesses and their needs.
Hence, CloudArc's approach to Salesforce is truly what makes it stand out as an ideal partner to implement the best CRM for small businesses. Even if you are a small business with Salesforce already in place for your company, CloudArc can still help you optimize your Salesforce licenses and implementation.
CloudArc uses its "Results Framework" and "6Ds" to guide and inform its implementation of Salesforce for any customer – regardless of whether they are new clients or are existing Salesforce customers seeking to switch license providers. In short, the "Results Framework" is a general assessment tool CloudArc references to identify how customers are either using Salesforce today or plan to use Salesforce in the future. Optimally aligning People, Process, and the right amount of Technology, the Results Framework helps customers achieve a 2x return on their investment in Technology with Salesforce. If customers aren't achieving that kind of return, usually a change in Technology or Process can help them reach the 2x return goal. A visual diagram of our Results Framework is provided as further detail. Ultimately, the Results Framework is about helping customers use the Salesforce Technology they need and avoid buying functionality that is not required.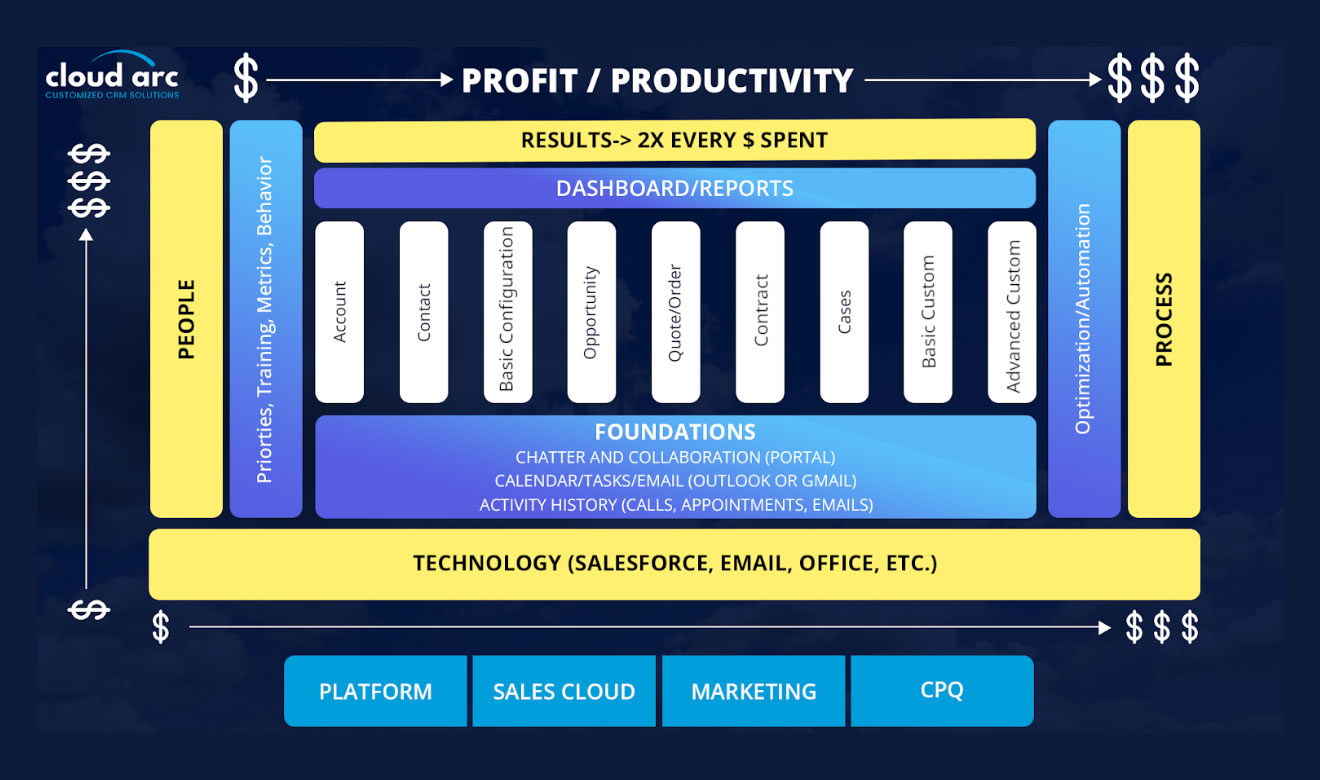 Using CloudArc's "hands-on" approach for Salesforce CRM and Salesforce training
In addition to the Results Framework, the 6Ds provide customers with a roadmap for the approach CloudArc takes to deploy Salesforce.
The steps include:
Discovery,
Design,
Development,
Due Diligence,
Demonstrate & Direct, and
Drive Adoption.
Discovery is the part of the process where CloudArc works with you to specify the exact problem or challenge you need your CRM to solve in your business. During this phase, the CloudArc team takes time to understand your business's current processes, requirements, and stress points. Using that information, CloudArc starts to target those areas where Salesforce may provide the most value to your business.
Step 2 of the "6Ds" is the Design phase where CloudArc will use information gathered from the Discovery phase to map out a Salseforce implementation specific to your business needs. This can be on Salesforce Platform or Sales Cloud. Regardless of the license that is best-suited for your business, the Design phase of the process will ensure creation of the specific objects you will need in your Salesforce org as well as introduce customizations – but only if they are needed to optimize your People, your Process and your Technology. A part of this step includes discussion of data migration and integration needs you may have so CloudArc can understand how your data from legacy systems or other platforms needs to be accessible and viewable within Salesforce. This step will help CloudArc provide your users with a unified view of your customers to optimize your Processes and how you meet business objectives.
Development is the third step of the 6Ds. This is the part of the process where CloudArc works with our internal team to create your Salesforce org informed by the details gathered in Step 1 and designed in Step 2.
In Step 4 of the 6Ds, CloudArc performs due diligence on the Salesforce org created in Step 3. This due diligence also includes testing you perform in your Salesforce org to ensure there are no errors or inaccuracies in the configuration. This careful scrutiny of the org in the context of the prior 6D steps is part of what makes Salesforce the best CRM for small businesses. Customers test and provide feedback on the org created by CloudArc to ensure all requirements have either been met or set aside for future discussion and enhancement of their Salesforce org.
Demonstrate and direct makes up the fifth element in CloudArc's 6Ds for Salesforce implementation. Training is essential for any Salesforce deployment. CloudArc's approach to training customers' users sets it apart from other partners and direct implementations with Salesforce corporate. Because CloudArc learns your business as part of the 6Ds in Step 1, we create training videos to show how to use the tool specifically for you and your users. This training is always accessible in your training library so it can be viewed by new or veteran users with the click of a mouse. The CloudArc team demonstrates features unique to your Salesforce org and teaches your users so they are empowered to independently execute on work tasks in the system.
Finally, CloudArc drives adoption of Salesforce as the 6th "D." Broadly this includes all the tasks associated with launching or "going live" with your Salesforce implementation. It includes steps CloudArc takes to encourage a culture of acceptance and user adoption creating enthusiasm around use of Salesforce. Helping users and managers understand the power of reports and dashboards built on data in their Salesforce org enables them to see the value of the tool and why it truly stands out as the best CRM for small businesses.
CloudArc
+

Salesforce : Best CRM For Small Business

For more information on the CloudArc approach or to learn how Salesforce might be a good fit for your business, click on the CRM Health Check link or join us for the next upcoming webinar.
Tags: best crm for small business, salesforce, cloudarc
Some of the Industries we Serve
Manufacturing | Medical & Health | Financial | Government | Education | Retail | Technology | Utilities | Construction | Real Estate | Hospitality